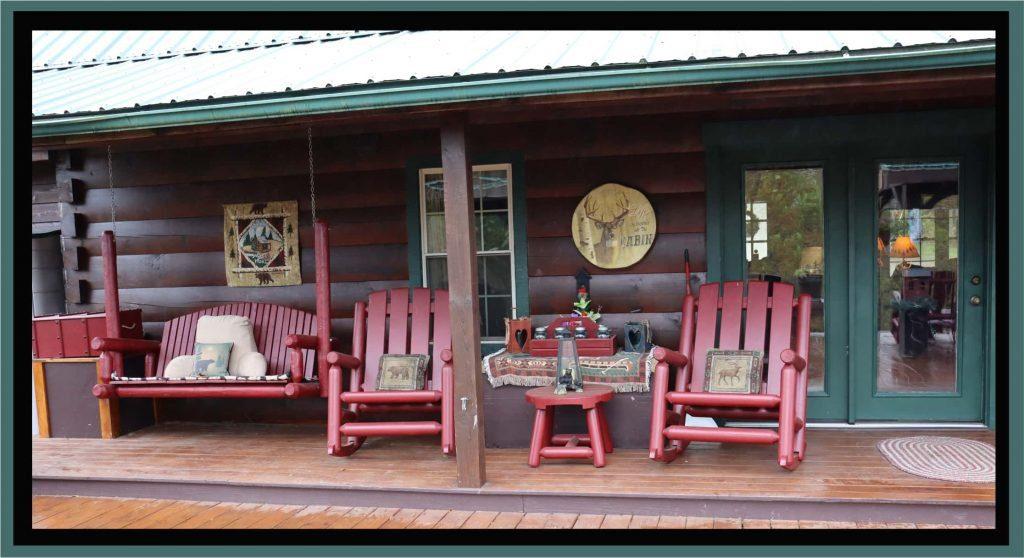 We purchased these wonderful over-sized log rockers a few years ago from Rocky Top Log Furniture. (Now Logheads Furniture.) When they began to weather and turn gray we knew we had a decision to make…paint or stain.
It was actually Stan who suggested we paint them a deep cranberry red. I love that old red color so I was immediately on board. We looked through color swatches and several paint stores but that prefect old red formula eluded us.
Then one day I noticed a snow globe on a shelf in our spare bedroom. It was a perfect shade of red yet had an almost black undertone giving it a real old weathered look.  I took the globe to our local PPG paint store and the manager was able to mix this amazing formula for us. We have since used this shade on a ton of projects around the cabin and it always looks great.
When we were done applying three coats of paint and stood back to inspect our finished project we were so glad we had decided to use paint instead of stain. It was the perfect log rocker make-over and gave our deck a beautiful pop of color to break up all of the brown wood tones.
If you are interested in the paint formula for your next project just email me at the address at the bottom of the page and I will send you the information.
Dianna
Before photo. Rockers were still in their natural wood with no paint or stain applied yet.
The red looks incredible with the first snow of the season on them!
We even painted the bar stools to match.